About William
William is a trial lawyer who fights for men and women diagnosed with mesothelioma. In his free time, he hot rods cars, builds computer systems, and chases his three young kids around.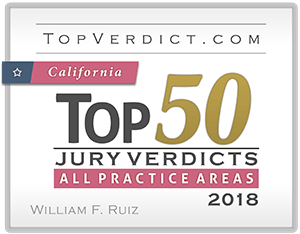 "The asbestos litigation industry, funded by corporate and insurance interests, spends millions upon millions of dollars a year assaulting bedrock scientific principles of asbestos disease causation. Not content to steal a mere page of the tobacco litigation playbook, the asbestos defendants learned from big tobacco's mistakes and came up with more insidious strategies. Our clients are incredibly brave to take a stand for what is right. We make sure they do not stand alone." -Will Ruiz
Education
Claremont McKenna College
Loyola Law School
Experience
William dedicates his practice to courtroom advocacy. He demonstrates to juries that his clients did what they were supposed to: work hard, create a home, love their families; while many of the companies that made, marketed and used asbestos products hid or ignored product hazards and safety rules in the pursuit of profit.
In 2018 William and MRHFM attorney Sarah Gilson obtained a multi-million dollar verdict on behalf of a woman exposed to asbestos automobile brakes and clutches manufactured and sold by two large multi-national companies. This verdict was among the top 25 of all verdicts in the state of California in 2018.
In 2017 William obtained a multi-million dollar verdict on behalf of a man exposed to asbestos cement pipe supplied by one of the largest pipe distributors on the west coast.
In 2010 William obtained his first a multi-million dollar verdict on behalf of a man exposed to second-hand dust from asbestos wire products brought home on his mother's clothing. The defendant, a subsidiary of one of the most profitable companies in the world, has not lost an asbestos-related trial before or since.
William holds degrees in economics and government from Claremont McKenna College and law degree from Loyola Law School, Los Angeles where he served on a law journal.
Recognition
From 2012 to 2019 William was selected to the Northern California Super Lawyers Rising Star list. Each year, no more than 2.5 percent of lawyers under the age of 40 in the state are selected. He is recognized as a Top 10 Trial Lawyer by the National Latino Trial Lawyers Association. He has received numerous commendations for his trial work and has been invited to speak about his work and advocacy at major conferences such as the International Mesothelioma Interest Group.
Service
William serves as a board member for the Alameda Contra Costa Trial Lawyers Association. He supports the American Association for Justice, the Consumer Attorneys of California, Legal Aid, local food banks and other organizations that advocate for and support public interests.
Contact Us
If you have been diagnosed with mesothelioma and would like to learn more about your legal rights to mesothelioma compensation, please complete the form below for a free consultation.